History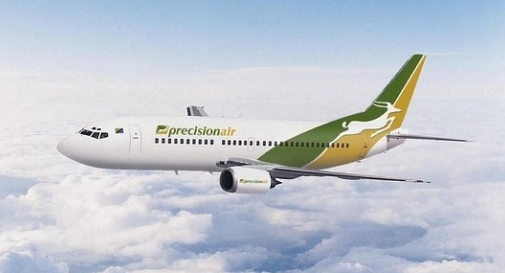 Precision Air was established in 1993. It started as a private charter air Transport Company operating a five-seater piper Aztec aircraft. Its initial line of business mainly entailed providing connections to tourists visiting the rich natural attractions of Serengeti National Park, Ngorongoro Crater, in northern Tanzania, the Zanzibar Island in the Indian Ocean and other parts of the country from Arusha town as its base.
The vast nature of Tanzania coupled with a growing demand for air transport services as the country started to embrace a free market economy soon drove Precision Air into operating scheduled flights maintaining Arusha as its base. The first flights were scheduled using a seven-seater one engine Cessna 207, one seven-seater Cessna 402, two eleven-seater Cessna 404s and the nineteen-seater LET 410 until mid 1990s when the airline introduced the bigger and more comfortable ATR fleet.
SERVICES AND PARTNERS
Precision Air is currently headquartered in Dar es Salaam- the commercial city of the United Republic of Tanzania.   The airline's main services include; scheduled flights, chartered and cargo air services which are growing at an impressive rate. In May 2009, Tanzania Civil Aviation Authority (TCAA) granted the company a self-handling license and ground handling operations started at the beginning of November. The airline is seeking a third party ground handling license from TCAA.
Partners:
The most significant turnaround of the airline came in 2003 when Kenya Airways acquired a minority 49% shareholding leaving majority 51% shares in the control of one local Tanzanian businessman. Since then, Precision Air has literally turned its image into a professionally run modern regional airline.

On the 21st December 2011 Precision Air made history by being the first airline in Tanzania to list on Dar es Salaam Stock Exchange with a total of 7,056 (Seven thousand fifty six) investors who took part in the Initial Public Offering in November 2011.
The airline raised Tshs. 12 billion (i.e. subscribed by 43.18%) most of which were taken up by Tanzanian nationals both retail investors and corporate entities as intended by the company.
The 7,056 new shareholders have therefore taken a stake of 16% in the company. This now means 58% of the company is owned by Tanzanians, 41% Kenya Airways and 1% by other nationals. The anchor share holders, being Kenya Airways and local Tanzanian businessman.

However, the airline also works closely with a number of companies and has code-share agreements with over ten reputable airlines worldwide.